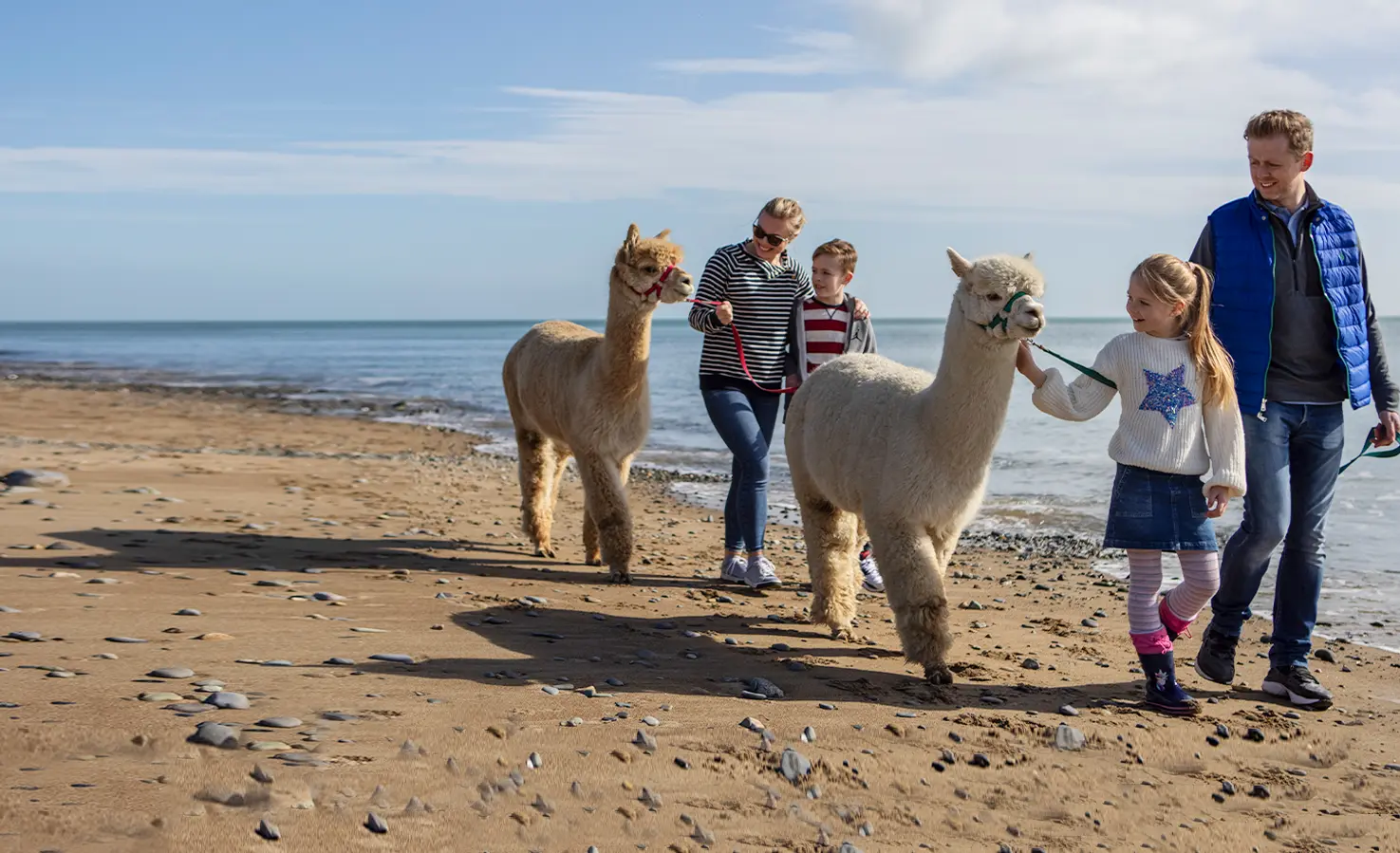 A proper business website and evergreen marketing for Cranfield Alpacas help deliver an award-winning experience.
In the Spring of 2021, Pamela and Peter of Cranfield Alpacas approached us to discuss the vision for their business. Their goal was to grow their small, relatively young alpaca attraction into something much bigger that would attract more tourists to the area of Kilkeel, giving them a sustainable new career doing something they were passionate about.
It was clear that to achieve this, they needed more customers and more time to focus on the delivery of the experience. It was time to get off the hamster wheel and build something proper.
Project Goals
Win more customers. Free up resources. Help them grow their business.
The challenge and our approach
Design a new website that encourages customers to visit, answers customer questions and delivers a great user experience, resulting in more bookings and ticket sales.
Reduce the time commitments and stress of managing ticket sales and resources by developing an automated, easy to administer back end system for the operations team.
Create evergreen marketing that can be used time and time again to promote the experience. Reduce the need for reactionary marketing and create content that can continually work to drive sales all year round.
Step 1: A proper website that encourages sales
"More website visitors are booking tickets and our revenue has tripled in the first 3 months"

Pamela Houston
Losing customers because of a poor online user experience is a frustrating experience for any business owner. Pamela and Peter knew they had a winning formula once customers arrived in Kilkeel, but they were unsure how to convey their unique brand experience and the sense of excitement online, whilst also making the booking experience hassle-free.
Following a detailed discovery process, we were able to plan, design, write and build a bespoke website and e-commerce system that makes it quicker and easier for customers to purchase not only tickets, but merchandise and customised gift vouchers as well.
Choosing to visit a new attraction (especially with children) also raises questions, so the sites user journey was designed to answer the questions most commonly raised by customers as they travel through the website. This simple but effective approach has reduced the time spent replying to emails and answering phone calls, whilst building customer confidence at the same time. Small changes compound to make a big difference.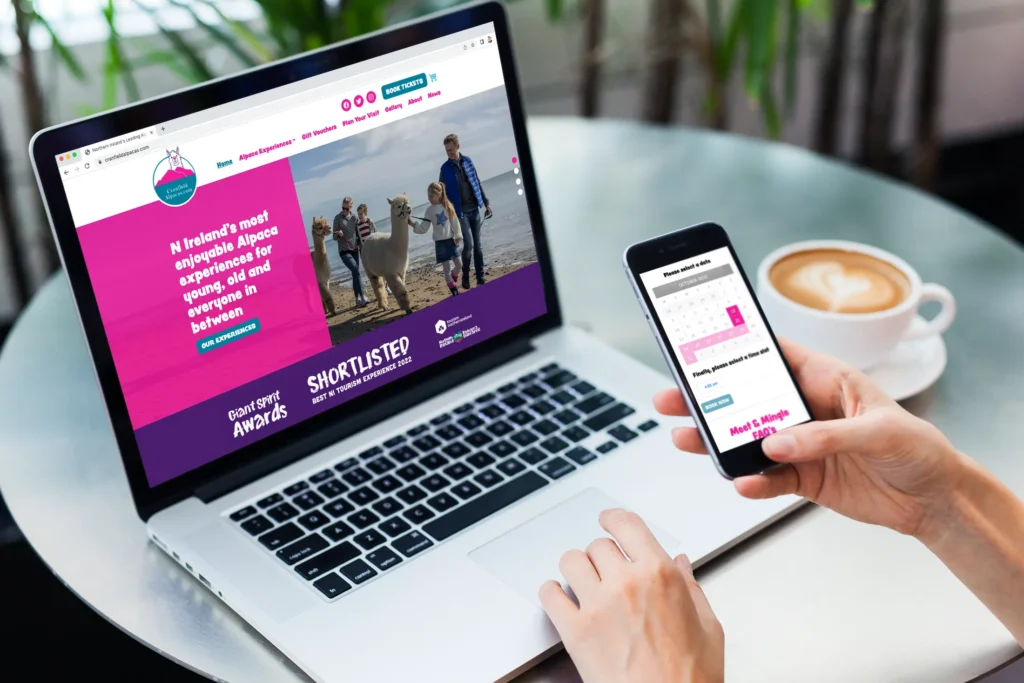 Step 2: The right system means countless hours are saved
"We were losing valuable time every day managing emails, diaries and phone calls. It was causing a lot of unnecessary stress."

Pamela Houston
As well as creating a successful new customer experience, the operations team at Cranfield were desperate to replace their off-the-shelf system with something that gave them more control and felt more natural to use.
With seasonal special events, weddings and other variables at play, we had to thoroughly map out how we could make something with moving parts simple and intuitive to manage. One Alpaca cannot be in two places at the one time.
Our solution now means that the team at Cranfield Alpacas can easily administer their calendar, bookings and resources through the site, which saves them time through automation and also reduces human error and miscalculation. They now have a system in place they trust, and a system that will grow with them.
Step 3: Making it easy to promote the business
In the first 18 months since the new site and marketing went live we have had over 150,000 unique visitors to our website

Pamela Houston
Creating an evergreen messaging toolkit with content designed for specific personas has allowed Cranfield Alpacas to increase their sales to new demographics and spend advertising budget much more effectively. By working closely with the Cranfield team, we were able to understand who they were targeting, where to target them and what to say to engage them.
By creating insightful messaging, perceptive copy and clever advertising language, we have helped Cranfield Alpacas to create a buzz and increase sales to a variety of audiences. The result is that more of the right people know about them and more people want to buy from them.
From a side project to winner of The Best Small Tourism Experience in NI
In October 2022, Cranfield Alpacas were nominated for, and won Tourism NI's best tourism experience award. An achievement we are all very proud of.
When we started this project, building a website that simply matched Cranfield's unique brand and looked nice would have attracted a few more customers, 100%. But you can only get so far when style is used to mask a lack of proper planning.
It's not overstating the importance here when we say this project was fundamental to either the success or failure of this business. If customers couldn't buy tickets easily or weren't excited by the way we marketed the product, and if Pamela and Peter continued to be bogged down in diaries and admin, then the business simply could not have grown.
Having a website is important for most businesses. But building a PROPER website as part of a joined up approach to marketing can be the difference between a business succeeding or a business failing.
I couldn't recommend Stenson Wolf highly enough. Put your trust in them. You will not be disappointed.

The work they have done has given us a system with all the bespoke functionality I wanted. It has reduced administration time, enhanced our brand and increased our revenue. It continually delivers sales and provides a great booking experience for our customers!

The team are brilliant and they're at the end of the phone if there's something I am not sure about. They adopt a holistic approach to your business, focussing on what you want and how best to deliver it.

Pamela Houston, Owner Cranfield Alpacas
Pamela's new website is the hub of her joined up sales and marketing activity. To learn more about why joined up marketing is the smart choice, click here
After 3 Months:
Admin time was reduced by over 80%
Website traffic increased by over 800%
Ticket sales tripled
After 18 Months:
150,000 unique site visitors
2,500 transactions processed
Audience engagement up across all social channels
…Your Marketing
Which should drive people to…
…A Proper Website
That makes it easier for your business to win…
…New Customers
Who will help to promote and strengthen your business.
Joined-up brand, web and marketing by Stenson Wolf
Ready to make 2024 the best year for your business…